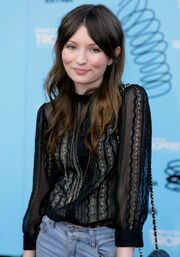 Emily Jane Browning (born 7 December 1988) is an Australian actress, singer and fashion model. She appeared as 'Petals Open To The Moon'/Wanderer's second body in the movie adaptation of The Host. After early roles in Ghost Ship and Ned Kelly, she won the 2005 AFI International Award for Best Actress for her breakthrough role as Violet Baudelaire in Lemony Snicket's A Series Of Unfortunate Events. She has starred in lead roles in the horror film The Uninvited (2009), the action film Sucker Punch (2011) and the independent film Sleeping Beauty (2011).[citation needed]
Early Life
Browning was born in Melbourne, the daughter of Andrew and Shelley Browning, and has two younger brothers (Nicholas and Matthew). She has always been interested in the arts, citing English literature, photography, and fashion design as her favourite school subjects.
She took a break from acting in order to complete her education at Eltham High School, where, in November 2006, she concluded her Victorian Certificate of Education exams.[citation needed]
Career
Browning's acting career began at the age of eight, when she was noticed by a classmate's father at a school play and he recommended that she pursue acting as a profession.
In February 2013, it was announced that Browning will shoot a major role in a film called Pompeii co-starring Kit Harrington, most known for Game of Thrones. The project will be filmed in Toronto and the actual city of Pompeii itself. During the same month, it was also announced that rumors surrounding Browning's possible appearance in The Host- a film adaption of the novel of the same name by Stephenie - were proven to be true as revealed by co-star Saoirse Ronan during a press junket interview for the film. She will play the role of a 'soul' named 'Petals Open To The Moon' in the movie. Director Andrew Niccol also stated in the special The Host collector's edition of Us magazine that Browning would be 'great for the next movie', indicating a larger role in a possible sequel. A further number of her films are currently in post-production and set for a 2013 release.
Her debut role was on the 1998 Hallmark Channel movie The Echo of Thunder. Additional roles in Australian film and television productions soon followed, including recurring parts in the television series Blue Healers from 2000 to 2002, and Something in the Air from 2000 to 2001.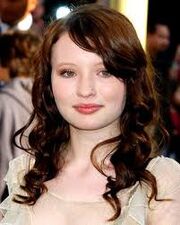 In 2001, Browning appeared as the daughter of a character played by Billy Connolly in The Man Who Sued God. She made her American film debut in 2002's Ghost Ship, and won an Australian Film Institute Award for Best Young Actress, the same year. In 2003, she appeared opposite Health Ledger and Orlando Bloom in 2003 ' Ned Kelly, and then reunited with Connolly the following year in the film adaptation of Lemony Snicket's A Series of Unfortunate Events, in which she played Violet Baudelaire.
In 2006, Browning appeared in the music video for Evermore's "Light Surrounding You".In the behind-the-scenes video for the clip, the band stated, "[We] suck as actors, so we decided to get Emily." She attended the L'Oreal Fashion Festival as a festival ambassador on 1 February 2007.
Browning played the lead in the 2009 horror film The Uninvited, an American remake of the 2003 South Korean film A Tale of Two Sisters, co-starring against Ellizabeth Banks and Arialle Kebbel. She then turned down a request to audition for the role of Bella Swan in Twilight, citing exhaustion, despite an endorsement from series author Stephenie Meyer. In 2009, she was cast as Babydoll in Zack Snyder's action film Sucker Punch, as a replacement for Amanda Seifried, who dropped out due to scheduling conflicts. Filming took place in Vancouver from September 2009 to January 2010, and the film was released on 25 March 2011. In an interview at Comic Con, she confirmed that she would be singing in the film, while claiming that her audition tape brought tears to her casting agent's eyes and the song she selected ("Killing Me Softly") was one of Zack Snyder's wife Deborah's favourites, which Browning referred to as the "selling point" on her being cast in the role.
Since Sucker Punch, Browning has worked steadily in film on a number of moderately high profile projects and won a number of highly sought after roles. Browning plays the lead role in the independent Australian film Sleeping Beauty, directed by Julia Leigh. She replaced friend and fellow young Australian actress Mia Wasikowska, who was committed to a film adaptation of Jane Eyre at the time. The film screened at the 2011 Cannes Film Festival and the Sydney Film Festival. Browning said, "Even reading the screenplay, it made me feel uncomfortable. But that was something that attracted me to it. I would prefer to polarise an audience as opposed to making an entertaining film everybody feels ambivalent about."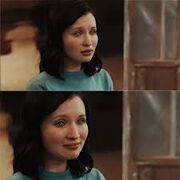 In 2012, she replaced English actress Ophelia Lovibond to play as the female lead in the film Summer in February. The film is based on the book of the same title, by Jonathon Smith . The film was filmed in Cornwall alongside Dominic Cooper and Dan Stevens.
In July 2012, Browning was cast in God Help The Girl a musical film by Belle and Sebastian front-man Stuart Murdoch. Browning played Eve, and the role required live singing. Filming on the production began on 8 July 2012 and wrapped on 12 August 2012.
Browning was then cast in Catherine Hardwicke's Plush alongside Cam Gigandet, replacing Evan Rachel Wood who was originally attached to the project due to scheduling conflicts. Browning also starred alongside Xavier Samuel whom she met on the set during filming. Both Australians, the pair sparked a close friendship and a rumored romantic relationship. They have been spotted together numerous times by fans since the filming of Plush, most notably arriving to the Sundance Film Festival together in 2013.
Magic, Magic directed by Sebastián Silva screened at the 2013 Sundance Film Festival to mostly favorable reviews.[citation needed]
Fashion
Since Browning's return to film, she has been called a rising fashion icon by MTV.Catching the eye of fashion Magazines "Vogue" and "W". She has also stated an interest in fashion design and has considered pursuing a career in fashion, but worries about her rising fame interfering with her work. "I never want to be known as someone who would put her name on something just because you're famous. That's something that disgusts me, and want nothing to be a part of."[citation needed]
Personal life
In her romantic life, Browning was in a long term relationship with relatively unknown Australian model and musician Max Turner. In 2011 Browning had entered a relationship with actor Max Irons. Reportedly, Browning broke up with Irons in the summer of 2012.
Browning is close friends with upcoming Australian film maker Guy Franklin - known for directing many of singer Kimbra's music videos. Franklin is apparently set to direct her in a second short film titled Mr. Beautiful, according to a recent interview he gave to Onya magazine. [citation needed]