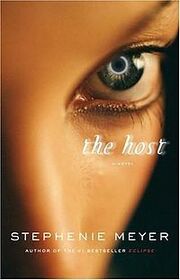 The sequels of 
The Host
is The Seeker and The Soul and so it will be a trilogy.
News
Meyer has said that she is working on additional books in The Host series and that she intends to write a trilogy. She said in an interview that, if published, the first sequel would be entitled The Seeker and the second The Soul. In November 2009, she said, "I'd like to eventually have The Host be part of a trilogy." In a Q&A session in Kansas City , Meyer stated that she has outlines for the sequels and has done some writing on them, but she has some qualms since The Host universe is a "dangerous place" where characters might die, and she is not sure if she wants to kill them off.The Host (novel) - Wikipedia, The Free Encyclopedia
Sequels
Stephenie Meyer confirmed that there will be two Host sequels!
The Seeker
When an unseen enemy threatens mankind by taking over their bodies and erasing their memories, Melanie Stryder will risk everything to protect the people she cares most about — Jared, Ian, her brother Jamie and her Uncle Jeb, proving that love can conquer all in a dangerous new world.
News for The Seeker
Meyer herself was more intimately involved with production on "The Host" than she had been for several of the "Twilight Saga" chapters. In recent weeks, she's even made her favortism for this alien-centric zone of her writing history quite clear and is ready to get cracking on the well overdue sequel, "The Seeker." examiner.com
In Philadelphia Stephenie Meyer announced that she is currently writing the The Host sequel.
The novel will be entitled The Seeker. Both Max Irons and Jake Abel who are on tour with Meyer said they would love to work on The Host sequel.
William Hurt and Diane Kruger also star in the adaptation, which is looking to capitalize on the Twilight audience as it hits theaters next month, March 29.The Seeker has been rumored to be the The Host sequel for years but this is the first time Meyer has confirmed it. hypable.com
The Soul
The Soul is going to be the third sequel of The Host.
News for The Seeker
The Host has always been described as a trilogy with The Seeker and The Soul respectively being books two and three.hypable.com