"To Stephenie Meyer, Andrew Niccol, Nick Wechsler, William Hurt, Saorise Ronan and the entire cast and crew of The Host and to Bob Wyatt, editor, author, and friend to many''
- M.C.V.
The official illustrated movie companion is done by
Mark Cotta Vaz
who done the companions to each of the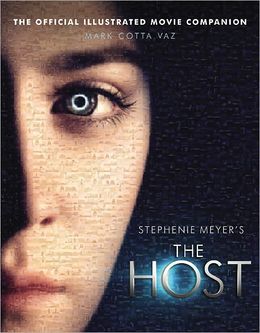 Twilight movies and it gives an intensive looks at
The Host (film)
and it's cast and and crew.
The Contents in the book
Making a movie is a journey. The Following filmmakers, represnting viewpoints from in front of and behind the camera, graciously shared their perspective on the creative journey of The Host
- The Official Illustrated Movie Companion
Stephenie Meyer's novel The Host one of the most unusual love stories ever written, but has enthralled millions of readers around the world. Now accliamed director Andrew Niccol brings The Host to the silver screens with a star studded cast, stunning visuals, and breath taking special effects.
The definitive companion book takes fans behind the scenes with extensive full color photographs and exclusive interviews with the cast, crew, director, and producers, including Stephenie Meyer. Offering an intimate look at the film making process, The New York Times best selling author Mark Cotta Vaz tells the inside stories behind the exotic locations, massive sets and spectualuar stunts, and shows how cast and crew come together to being Meyers' extraordinary vision to life.
The Chapters
Introduction to The Host
Possessed
Survivors
The Cave
Souls on Earth
Fight for survival
Haunted Places
The fire of this movie world
Paragraphs from the book mentioned in the Companion
Page One
If I stopped here and listened to the seductive suggestinve suggestions of my host, I would truely be a traitor. That was impossible. I was a soul. And yet I knew what I wanted, more powerfully and vividly than anything I had ever wanted in all the eight lives I'd lived. The image of Jared's face danced behind my eyelids when I blinked againest the sun - not Melanie's memory this time, but my memory of hers. She forced nothing on me now. I could barely feel her in my head as she waited - I imagined her holding her breath, as if that were possible for me to make my decision. I could not separate myself from this bodies wants. It was me, more than I'd ever intended it to be. Did I want or did it wants? Did that distiniction even matter now? (Reference in the book: Wanderer, deciding to go into the desert in search of the beloved Melanie, whose body she inhabits, - The Host) 
Last Page
What was it that made this human love so much more desirable to me than the love of my kind? Was it because it was exclusive and copricous? The souls offered love and acceptance to all. Did I crave a greater challenge? This love was tricky; it had no harrd-and-fast rules - it might be given free, as with Jamie, or earned through time and hard work, as with Ian, or completely and heartbreakingly unattainable, as with Jared. Or was it simply better somehow? Because these humans could hate with so much fury, was the other end of the spectrum that they could love with more heart and zeal and fire? I didn't know why I had yearned after it so desperately. All I knew was that, now that I had it, it was worth every ounce of risk and agony it had cost. It was better than I'd imagined. It was everything. (Reference in the book:_unidentified_)
Media
The Host: The Official Illustrated Companion (c) 2012 by The Host. All characters and events in this publication, other than those clearly in the public domain are fictions and any dissemblance to real persons, living or dead, is purely coincidental.
Clips
}}

---
---
(But if you have any questions in why this page is a stub please message Big Brother 99 who has adopted this wiki, thank you!)
---