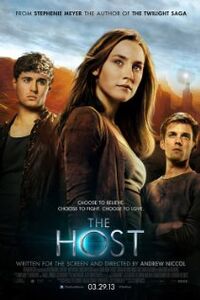 The battle for earth is over. The fight has just begun. This compelling movie comes from the same author that wrote the Twilight Series. Once again we have a group of young adults in the midst of a world wide struggle, and in the middle of it all: a maddening love triangle. Help yourself to a look at the movie trailer, and don't forget to participate in the polls below.
No two ways about it, Critics did not like this movie. And yet! ...Audiences seem interested in seeing it. Take a look at what the critics thought, add your own two cents, and don't forget to vote in the polls.
Loved It!
None, to my knowledge
Thought it was okay
Scott Foundas - Variety No Stars Given
Excerpt: This extravagantly silly but undeniably entertaining sci-fi soap opera — the latest adapted from the work of Mormon YA-lit phenom Stephenie Meyer — should prove shrewd distaff counterprogramming to "G.I. Joe: Retaliation," posting solid (if less-than-"Twilight"-sized) numbers at home and other points throughout the galaxy.
Elizabeth Weitzman - Daily News 2 of 5 Stars Given
Excerpt: Though Meyer produced this followup adaptation, Andrew Niccol ("Gattaca") wrote and directed it. And to everyone's credit, "The Host" is far more ambitious than "The Twilight Saga" ever was. But "Twilight's" success lay in its simplicity: Girl loved boy, and wanted to be with him forever. "The Host" is lacking that strong romantic core, which dooms it immediately.
Hated It!
Moira Macdonald - Seattle Times 1.5 of 4 Stars
Excerpt: So, what we have here is not so much a triangle, but a love square, with three bodies, four identities, and no personalities.
Todd McCarthy - The Hollywood Reporter No Stars Given
Excerpt: Aimed squarely at the same tweens who contributed so generously to the bank accounts of everyone who became associated with Meyer's vampire franchise, this one swills in the same sort of thwarted Victorian-style romanticism while indulging a similar moonstruck vibe that can seemingly only be resolved in Meyer's work by selfless female sacrifice.
Peter Travers - Rolling Stone 1.5 of 4 Stars
Excerpt: A human girl, possessed by something alien and undead, must choose between two cute boys. WTF! Is this another Twilight? Nope. But The Host is born from the mother of all things Twilight, Stephenie Meyer, which is the next best – or worst – thing, depending on your point of view.
Wikian Opinions
The Host
What did you think of The Host?
Which One
Which One would you choose?
---
---
Community content is available under
CC-BY-SA
unless otherwise noted.